Creative Marketing Belfast, NI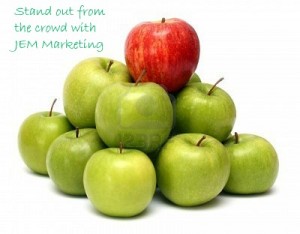 Creative Marketing is creating marketing design or content that is different and makes your business stand out from the crowd.
We are passionate about working with your company to create eye catching designs whether it be a new brand, logo, leaflet, brochure or advert.
Then we develop the content and marketing message for your business. We believe that the content has to connect with the customer, tell the story of your business and highlight what makes you different to the rest.
The idea is then to combine the creative design and innovative content to make an interactive campaign that reaches your target audience using a range of marketing channels like digital and traditional marketing.
We aim to capture the customer's attention and entice them to find out more about your business and ultimately lead them down the road to buy.
Interested in some Creative Marketing for your business? Call JEM Marketing today for a FREE CONSULTATION on 07775422702.